---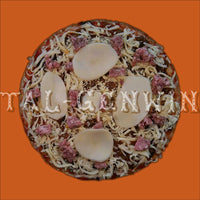 Caponata (eggplant, peppers, onions, celery, tomato sauce, olives, capers, vegetable oil, vinegar, sugars, salt & spices), Maltese sausage, mozzarella cheese, tomatoes, local potatoes, herbs and spices. Pastry: quality wheat, fresh water, sunflower oil, sugar, salt and yeast.

Approx Weight (G):1 kg (1000g).

Approx Portion Size (Adults):2 Adults.

Approx Size (CM):14 Inch (33.5cm x 2.5cm).