---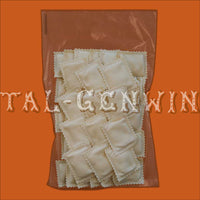 Fresh ricotta cheese, fresh local chicken, local garlic, local onion, our secret mix of spices, rice, sunflower oil and a touch of salt. Pastry: quality wheat flour, quality semolina, fresh water & fresh local eggs.

Approx Weight (G):1.2 kg (1170g).

Approx Portion Size (Adults):4 Adults.

Approx Size (CM):XL Ravioli (7cm x 6cm each).